With Cintas already ran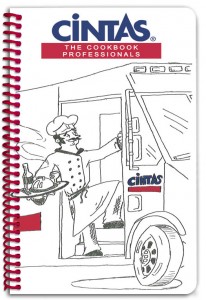 ked by NEWSWEEK Magazine among the Top 500 Greenest Companies in America, the Kelowna branch has shown a grassroots initiative of its own by publishing a fundraiser cookbook with proceeds going to Free The Children.
Cintas teamed up with Free The Children in early 2011 as part of the Let Canada Be Canada initiative. Cintas is a corporation that originates out of the United States which has often tied them to American charities like the Susan G Komen Foundation. While they were happy to support such great charities, Canadian partners wanted to support a Canadian Charity which is how the partnership with FTC began. Why Free The Children? The program targets youth involvement through education and awareness but this was something that could easily be translated to all partners across the country. Funds raised are invested wisely – for every $1 raised .91 cents goes directly into the program. Much like what Cintas believes – money is spent wisely and conscious of the bottom line.
FTC has simple and humble beginnings originating in 1995 in Thornhill, ON by founder Craig Kielburger. Craig was only 12 years old. Since they launched everything in April, Cintas has built a water and sanitization facility and a school in their adopted village in Kenya.
Gateway Publishing is so pleased to have played a part in Cintas's fundraising efforts!