Have you ever had one of those days when nothing seems to work out right, when every time you try to solve a problem another one presents itself?  For Marla Avery, it wasn't a day or two.  It was months.   Marla's journey began in July 2008 when she was diagnosed with melanoma cancer.  Shortly afterward her left eye was removed, standard procedure where tumors reach a certain size, which was the case with Avery.
Later that year, in October, Avery received an eye transplant, which presented hope for the future, but it was shortly after that, with her daughter only seven weeks old, that she received more bad news.  Avery's Ocular Melanoma had metastasized to her liver.  "I honestly believe God takes you down that road to be closer to him," explained Avery from her home in Denton, Texas.  For Avery, it was definitely her faith that got her through the experience.  "I'm a two time cancer survivor.  We treated the liver and now I'm grateful for every day.  I chose to take this experience and make something positive happen, so I created a fundraising cookbook to raise awareness and raise funds for helping people."
Avery was a little intimidated by the prospect of making her own cookbook, having never produced one before, but explains that Gateway quickly put her at ease.  "They were fantastic to deal with.  They brought me right through the process and their online entry system made the process so easy.  In fact, the system enabled me to have survivors enter recipes from all over the States.  One came in from Michigan."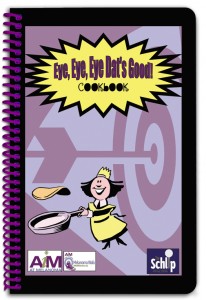 The cookbook, called Eye, Eye, Eye Dat's Good!, is full of recipes for tasty southern dishes, and touching stories about both tragedy and survival.  Funds raised through the sale of the cookbook are being directed to AIM at Melanoma, a Plano, Texas based non-profit.  AIM is the largest international melanoma organization focused on melanoma research, education, awareness, and legislation.  AIM is the result of a merger between two foundations, each originally formed in memory of a person taken by this horrific disease (Charlie Guild and Jim Schlipmann).
According to Avery, sales are going well.  Her boundless energy and enthusiasm are certainly contributors to its success.  "I emailed and Facebooked.  We're doing a 5 k run.  We'll sell some cookbooks there.  I just put in another order.  I really didn't realize how easy this would be."
To purchase a copy of Eye, Eye, Eye Dat's Good! contact Marla Avery at marlaavery@ymail.com For more on AIM at Melanoma, visit www.aimatmelanoma.org.  For more on Gateway, visit www.gatebook.com