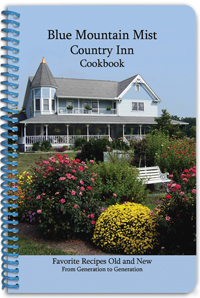 The owners and operators of Blue Mountain Mist Country Inn, Norman and Sarah Ball, are natives and direct descendants of the early settlers to the Smoky Mountains.
One of their objectives of starting a B&B was based on the desire to share with others their love of the Smoky Mountains and their proud heritage. Along with this came the desire to provide as much good Southern hospitality and food as their ancestors did.
In earlier times the objective in any mountain home was to make "company" or guests feel comfortable and at home. They always said, "Make yourself at home" and truly meant it. Next came the offer of something to drink or eat.
Into this philosophy was born the idea of publishing a cookbook, reflecting the heritage of their mothers, grandmothers, aunts, and great-aunts whose love for food and cooking gave them great joy and pleasure throughout their lives.
Norman and Sarah, after repeated requests for recipes of their guests' favorite dishes, can now offer Blue Mountain Mist Country Inn Cookbook, a beautiful, coil-bound cookbook, filled with family pictures, Smoky Mountain sayings, and, of course, the recipes for which Blue Mountain Mist is so well known.
Awarded one of the 10 best B&B's in the South by BedandBreakfast.com, 2 years in a row.
For your Smoky Mountain Bed and Breakfast experience please e-mail relaxed@bluemountainmist.com, visit their Web site at www.bluemountainmist.com or call (865) 428-2335.